The main steel manufacturers
The World Steel Association has published the statistics for June 2013. World raw steel production was 131.7 million metric tons, an increase of 3.3% compared to June 2012, but with the same average of 4.39 million tons/day as in May 2013.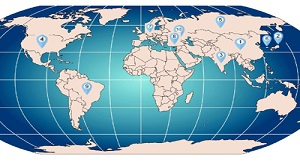 Chinese production increased by 4.4 million tons between June 2012 and June 2013, but the average/day in June 2013 compared to May 2013 was actually 0.3% lower. Other countries that showed increases of over 200,000 tons between June 2012 and 2013 include Taiwan and Ukraine, while South Korea and Italy had a decrease of over 250,000 tons at the same period.
The main steel manufacturing countries in 2012 were China, Japan, USA, India, Russia, South Korea, Germany, Turkey, Brazil, and Ukraine.
Top steel manufacturing companies – 2012
ArcelorMittal was setup in 2006 by the takeover of the Western European steel manufacturer by the Indian manufacturer Mittal Steel. It is the largest steel manufacturer, responsible for over 6% of the world steel production. It has its registered office in Luxembourg and operations in over 60 countries on four continents, Europe, America, Asia and Africa. ArcelorMittal manufactures finished and semi-finished products, such as cold-drawn sheet and hot-rolled sheet, bars, structural shapes, wire, pipes and tubes for various applications. The company has iron ore mining activities in Algeria, Brazil, Bosnia, Canada, Kazakhstan, Liberia, Mexico, Ukraine and the United States, as well as coal mining activities in Kazakhstan, Russia and the United States.
On 1 October 2021, Nippon Steel merged officially with Sumitomo Metal Industries, becoming Nippon Steel & Sumitomo Metal Company. It is the leading steelmaker in Japan with over 50,000 employees.
The company makes a wide range of steel products used for industrial machines and equipment, exported worldwide. Nippon Steel is also developing new businesses, such as chemicals, ceramics, electronic equipment and information and communication systems.
Hebei Group was setup in June 2008 through the merger of three smaller companies in Hebei Province, China. It is a state-owned company and has three main product lines: fine plate materials, vanadium-titanium products and high quality construction materials.
Boasteel Group is a state-owned company based in Shanghai, China. The company makes carbon steels, stainless steels and special steels. These steel products not only meet domestic needs, but are also exported to more than forty countries. They have wide application in industries such as automobiles, household appliances, petrochemicals, energy, transportation, aeronautics, etc.
POSCO is a company setup in 1968, with the registered office in South Korea. Steel production includes hot-rolled steel, sheet, wire, cold-drawn steel and stainless steel products. POSCO currently manages two integrated steel plants in South Korea, in Pohang and Gwangyang. In addition, POSCO manages a joint venture with US Steel, USS-POSCO, in Pittsburg, California.
Founded in 1958, Wuhan Group is the first Chinese giant in steel industry. Over the years, the company has developed a complete set of advanced processes for the manufacturing of iron, steel and mining equipment, coking and additional facilities. This makes it an important, high-quality manufacturing base for hot-rolled and cold-drawn sheet in China and contributes greatly to China's economy and modernization. Currently, Wuhan Group is involved in three industries: the iron and steel industry, hi-tech and international trade.
Shagang Group is the largest private company in China. Annually, it manufactures about 29 million tons of iron, 35 million tons of steel and 33 million tons of laminated products, being one of the top five steel manufacturers in China. Since 2006, the company has purchased four smaller rival companies, and now it is China's largest private steel manufacturer.
Shougang was established in 1919, having an accelerated growth since the establishment of the People's Republic of China. Along with the reform of China and its opening to the outside world, Shougang has developed as one of China's core corporations. The main activity of Shougang Group is the steel industry, the company having business in mining, electronics, building and real estate.
JFE is a corporation with the registered office in Tokyo, Japan. It was established in 2002, through the merger of NKK and Kawasaki Steel Corporation. At that time, NKK was the second largest steel manufacturer in Japan and Kawasaki Steel the third. The main field of activity is steel production, but it is also engaged in engineering, ship building and real estate rearrangement. The company has subsidiaries abroad including California Steel in the United States, Fujian Sino-Japan Metal in China and Minas da Serra Geral in Brazil.
Anshan Iron and Steel Group Corporation (Ansteel) is established in Anshan, Liaoning Province, China.
Anshan area is rich in iron ore, its reserves representing a quarter of the country's total reserves. The company was setup in 1948 and had a great contribution to the national economic construction. After 60 years of construction and development, Anshan Group created a development model for three large manufacturing bases located in Anshan, Bayuquan and Chaoyang. These have an annual capacity of 25 million tons of cast iron, raw steel and laminated steel. The company can manufacture 600 classes of steel that are widely used in various fields of the national economy.
<< Inapoi